Post with 74 notes
Hey Ahmed Shihab-Eldin, 
Dude, you are so unbelievably hot. 
We're going to be honest with you, Ahmed, we didn't know who you were until we saw this video. And you weren't the reason we pulled up the video either. 
We know all the controversy surrounding the term we're about to use, but we're going to ignore that for the time being. We probably fit within the category of "gaybros" at DYASH™. We don't use that word in a way designed to exclude any of our gay brothers who do not consider themselves a part of the gaybro community, but we find a great deal of comfort and support from that segment of the gay community. So we turned to that video on the Huffington Post's Gay Voices channel to see some guys debate how gaybros fit into wide gay community. We were super interested — we're really saddened by the fact that some gay men find the gaybro community to be a divisive force. 
Then your face popped onto the screen. 
:-o
We couldn't think. We didn't have a coherent thought for the next half an hour. Nope … not a single coherent thought. We tried to pay attention to the very lively and interesting debate the dudes were having, but we couldn't. All we could think about was (1) "When is Ahmed coming," or (2) OH MY GOODNESS … THERE HE IS!!!!!!!"
You have that face, Ahmed — a face that interrupts the world around whomever is looking at it. We have had a Web browser tab open with your picture on it for days now. Why? Because we can't bear to close it every time we see you. 
We repeat: You have that face, Ahmed. 
Since this is DYASH™, of course we had to do some research on that hottie who had us so distracted.  We loved the tagline on your Web page: I'm Palestinian by blood. American by birth. Kuwaiti by family refuge. Egyptian by upbringing. Austrian by adolescence. Curious by nature.  
We like that you acknowledge all the international cultural influences that have made you the interesting person we are coming to love. Yet, we are eating up the fact that you unequivocally make sure to note that you are, "American by birth." To quote the great movie, "AMERICA … F* YEAH!!!" 
And we love having you as part of the American family. We'll we real: a lot of it is because you are beautiful. But no small part of it is because of the last thing you say about yourself by way of introduction on your Web site: "Curious by nature." That more than anything is fascinating us about you beyond your face. 
Damnit … we just did it again. We went to look at some more about your background to share with our readers, and we got caught in the damn picture of you. We're just going to suggest folks take a look at your wikipedia page to find out how you got to the point that Forbes magazine named you a "30 Under 30" disruptor. 
You can disrupt me any day, Ahmed. 
Why? 
Because, dude, you are so hot™. 
Post with 6 notes
Dear Heath Hutchins … DAMN!!!!!
:-o
We didn't even know what to say, until we realized your picture says it all. 
We will comment on how fascinated we are by how you took your body from beautiful to beautiful. Both looks worked for you, Heath. 
Jeez … 
DYASHguy. 
P.S.: How could we show just one picture of you, HH?
Oh my … 
Post with 12 notes
Hey Brandon Robert Brown, 
Dude, You Are So Hot™… just so hot. 
WHOA!
Ok, Brandon, you need to understand DYASH™is helmed by a gay dude. And as a responsible member of the gay community, DYASH™likes to buy products from gay-owned businesses. Gay and have a business selling a product or service? We'll at least consider buying it — and if we don't, we had to talk ourselves out of buying it. 
So when the gay activist in us learned that Andrew Christian apparel was owned and designed by a fellow gay dude, we were all over the Web site inspecting every inch of it, and making serious decisions about what to buy in support of a gay entrepreneur. 
We know people are going to think our real motivation was how mesmerized we were by the guys in the AC advertising videos [NSFW] shaking some fine behinds for us — but that really was only about 68% of our motivation. We seriously love that Andrew Christian markets it's clothing almost exclusively to gay men. That and the fact that we look real cute in the sh*t AC sells. (Heyyyyyyyyyy!!!!)
Now, since Andrew Christian is aimed at gay men, there really are good looking man-pieces all over the site. But BRB, we nearly fell off the couch the first time we saw you in a video. Seriously, there are hot dudes all over AndrewChristian.com — lots of them. But you had more to offer than hot, Brandon. 
We had to wipe the charisma you were throwing off of our computer screens. You are CRAZY charming, Brandon, and it so comes through the camera. We bought the Andrew Christian calendar just so we could have a whole month of looking at you. 
Since this is DYASH™, you know we did our research on you, BRB. Turns out you relay are more than a pretty face. You're a chef and a loud-as-hell gay rights activist, too? Damn. Yes we did clear a spot in our bathroom for your toothbrush. It's there whenever you want to marry us. 
But we'll be real … we acknowledge your relationship with the adorable Colby Melvin. We support you and Colby as partners (or ColBra, as you two like to refer to your couplehood), because you both look super-happy, and we support happy, monogamous gay couples at DYASH™.
But if you're ever ready to use that space as a permanent parking place for your toothbrush … call us. K?
Why, Brandon? 
Because, dude, you are so hot™. 
P.S.:
:-o
Post with 2 notes
Hey, Will Portman, 
First of all, thanks for being super brave. Lots of people come out to their parents, and it's always über difficult. (We had that experience, and it's just not always clean and pretty.) But's it's got to cause a massive amount of dread to tell the fam you're gay when one of your parents was an original backer of the Defense of Marriage Act and voted in favor of a federal constitutional amendment to ban marriage equality in perpetuity. 
Second, please thank your dad, U.S. Senator Rob Portman, for handling this like a real man: by loving his son unconditionally, and by telling the world he'd no longer support anti-gay political causes. 
Will — because you went from obscure son of a seemingly boring Republican senator to likely one the most important gay men of 2013 (and turned your dad into a profile in courage) — dude, you are so hot™. 
DYASHguy.
P.S.: Be ready to be one of the most eligible gay men out there, Will. 
[Message me! ;-) … Wait … how old are you? I need to see some id.]
P.P.S: Your brother, Jed, is really hot, too. 
Post with 5 notes
Hey Joseph Gordon-Levitt,
Dude, You Are So Hot™.
Remember, The Powers That Be,  JGL? We do. It was an early 1990s show starring John Forsythe as a hapless U.S. senator, and we found it wildly entertaining. It introduced DYASH™ to David Hyde Pierce, a gay dude we love … and a little dude who played his son named: Joseph Gordon-Levitt. You were supercute in that role, JGL, but since we're not pedophiles we didn't pay you much attention. We spent a lot of that show wondering how John Forsyth was still so hot after all those years. (Seriously, John "He'll Always Be Blake Carrington" Forsythe was hot every f*ing day of his life. We want to know what his secret was.)
You followed Powers with another awesomely cute role in the movie  Angels In The Outfield. So precocious you were. But again, we didn't pay that much attention to you — at DYASH™, we like our males all grown.
Then you threw a little Tommy Solomon at us in 3rd Rock from the Sun. Now JGL, we still weren't all about you, because as a teenager you were too young. But we're going to be real, Joe-Joe: We started to see some potential hotiness there on 3rd Rock.
And we promptly paid no attention to you for a long while. You still needed seasoning. Not your acting, mind you. We thought you were a good actor from Powers on (you were a fabulous actor even as a child). But you needed time and maturation before we could see you as so hot.
You came in and out of our lives in small roles, but not anything that made us take lots of notice.
Until … this conversation took place in 2009:
DYASH™to DYASH™'s Brother: "Who is playing Cobra Commander in the new G.I. Joe movie [The Rise of Cobra]?"
D's B: "I can't remember his name, but you would know him if you saw him. Go look him up. He seems like your type."
DYASH™: Okay …
After DYASH™ looked you up JGL: GUD LAWD!!!!!!! LOOK AT HOW HE GREW UP!!!!!
So we watched 500 Days of Summer.
What did we say when you came on screen? "GUD LAWD thank you for that face!!!!!!!!!"
Then we discovered one of our favorite movies: Latter Days. You were a total jerk in that movie … but you also were SO HOT™!!!!
Next came Inception. We definitely are Leo people at DYASH™, but you sure as hell did the impossible by taking our eyes off him a good bit of that movie. How? By being so damn hot. 
Then you made us nearly pass out in The Dark Knights Rises. You played that role perfectly, and you played it hot. [***SPOILER ALERT***:] We saw the Robin thing coming. But by doing it so all pitch perfectly, we didn't mind. We love Batman movies … all Batman movies … no matter what. But you added to that in The Dark Knight Rises.
We love you, JGL. You are so hot, and you seem like a cool guy. You even have a band.  Awe-someness.
But what finally pushed us over the edge to turning you into a DYASH™ guy? Scroll back to the top of this page and look at that pic again.
:-o
You got hotter somehow.
Dude, You Are So Hot™.
DYASHguy.
P.S.: Thanks for that SNL opening. 
Hey, y'all, 
It's been an interesting few months for the DYASH™crew. 
First of all, Bradley Cooper guy (BCg) turned out to be a terrible human being. (Hint: That's like the worst thing DYASH™says about a person — bad human being.) Calling BCg a user really is an insult to his skill at manipulation, misdirection, and all-around user-ism. We don't use a lot of curse words at DYASH™, but BCg is a straight-up asshole. 
Not a super fun time when that became apparent. 
So in the wake of that storm, what did DYASH™wind up doing? DYASH™wound up in bizarre emotional affair with an engaged dude. ("WHAT!?!?!" You must be screaming at the screen right now; and all we can do is hang our heads in shame.) We never did anything physical, but the emotional cheating was full, complete, ugly, and wrong. 
Yikes.
So DYASH™was in an fragile state as all of that was happening basically simultaneously. What, of course, had to happen as all of that was exploding in our faces like the end of a good date? The SuperDouche decides to show up and be all sensitive and caring and supportive.
[Sigh]
That didn't end well. As a matter of fact, none of that ended well. 
And DYASH™should have known that was the inevitable ending. 
So what will DYASH™be wearing for the foreseeable future?
DYASHguy. 
P.S.: You should even wear a condom if you don't know when the next time is you'll be back in Haiti. (F*ing love that SNL skit.)
Post with 6 notes
Dear Naval Academy Guys:
Dudes, You Are So Hot™.
My father and brother were in the Army. My father then moved on to become a police officer. My best friend is a firefighter. I grew up in a military town transfixed by my neighbors' fathers and their jobs.
You know what all that mean, NAGs? I've got a thing for men in uniforms. The very idea of them makes me unconsciously gooey inside.
It's not on purpose, but it's very real.
So a few years ago when I decided to take a day trip with a group of friends to Annapolis to tour the United States Naval Academy I nearly went into shock by the time we made it to the front of Bancroft Hall. And once I realized Bancroft Hall is the world's largest dormitory and it was at that very moment full of uniform-wearing hotties, everything really did turn out ok. Yes … I passed out from hyperventilation, but I didn't hit my head too hard. I was lucky.
[As a side note, dudes, I'll mention I was not out of the closet to myself at that time. I'm not quite sure how my reaction to being at the Naval Academy didn't seal the deal — but I went almost 10 more years before I admitted that I didn't "just like admiring a beautiful male form as inspiration for what I could look like." Wow … I'm embarrassed just reading that delusion again.]
Y'all are all so hot. And I love that you work at it. You guys don't just live off your natural gorgeousness. Nope … you're up before the sunrise working hard on PT.
Now I get that you're not up that early because you want to be smoking hot — that's not your primary reason. You're up because you are fighting to keep this country and our way of life safe from Chinese communists and Ahmadinejad. But the beauty that is a side effect is so nice to look at.
 We at DYASH™ truly appreciate your sacrifices, and your selflessness. We appreciate each and every one of you there today, those who have come before, and those who will follow for generations to come.
We can't get enough of looking at you guys, but that's not the real reason we love you. We love you because you are this country's very best. You and your brothers and sisters at the other service academies, enlisted men an women, officers, everyone who is keeping us safe and free around the world at great sacrifice — we love you all.
Thank you … and Happy Veterans Day.
We also specifically have to thank you for that climbing-the-greased-obelisk (the Herndon Monument) tradition you all have your first-year midshipmen engage in every year. It's so good, y'all. Do that year after year after year after year … please.
Why? Why do we love that so much? Because you have your shirts off, and we get a chance to see yet again that, Dudes, You Are So Hot™.
DYASHguy.
P.S.: Y'all realize that is a greased obelisk with half naked men trying to climb to the top and put a hat on the tip, right? We like the metaphor of putting a hat on top — it promotes safe sex. But we hope that is silicone or water based grease, because oil-based grease is not considered safe these day.
But seriously, that's pretty gay (and we mean that in a gay-positive way, of course).  Every year homosexual men are gathered around our computers pressing refresh all day waiting for the official pic to come up on the Washington Post Web site. Y'all know that right?
Good …
So y'all did that as an annual, subtextual apology for discriminating against gays?
Oh … okay.   Well don't stop now … you still have generations of apologizing to do. Y'all were real bad to gays for a l-o-n-g time. So keep putting that hat on the tip and remembering not to use oil based lube … we mean grease. 
P.P.S: Thanks for being nice to the gays now. It sincerely is appreciated. 
The normalcy of this ring dance photo made us a little misty. 
Dear American Military,
Happy Veterans Day …
Ummm … don't … mind … us … we're a … little … flustered.
Thanks for … uhhhhh … serving … us beyond … what we … deserve … so … selflessly, and stuff …
:-o
DYASHguy. 
P.S.: Oh … one more thing —
The American military is DYASH Approved™. 
Post with 9 notes
Dear Eli Roth,
Dude, You Are So Hot™.
We are the youngest in our family, Eli. So when we were young (say … before about age 10 … when our parents decided work was important and they were too exhausted to do that and child rearing so they chose work) we strictly were forbidden from watching scary movies. If our parents were successful at anything, it was making us completely disinterested in horror films. As such, we never really developed a taste for scary movies because somehow we never really were exposed to them.
We are unfamiliar with your oeuvre, Li-li. We are unfamiliar with your work at its most passionate — and that kind of sucks.
You know what doesn't suck? You know what we are familiar with, Eli? That would happen to be the beauty of Brad Pitt and Micheal Fassbender. Which means our first real exposure to you was when for entire stretches of the movie Inglorious Basterds you stole our attention away from the two of them, which is really f*ing hard to do.
You received the DYASH™ "Who is THAT?™" award when we first saw you on screen as Donny "The Bear Jew" Donowitz in IB. (We hand the Who is THAT?™award to super-hot hotties the first time we are presented with their supra-natural beauty for the first time. The awardee has to be someone we lament not being exposed to earlier. That certainly is you, Eli. )
Since this is DYASH™, of course we did some research on you once we knew you are hot and realized you have talent, too. It's just mainly in something we can't appreciate: horror movies. 
But we do appreciate drive and quality. We think it's cool you won a Student Academy Award in Division III while in college. (We're not super sure specifically what that means, but we certainly don't have one, so color us impressed.)  We love that fact even more because it was for a movie (Restaurant Dogs, your NYU senior thesis) that paid homage to Quentin Tarantino movie (Resevoir Dogs).
(We LOVE Tarantino movies. Just because we don't like horror movies doesn't mean we don't love Tarantino's absolutely perfect use of extreme, over-the-top gore. Except for Grindhouse. Didn't see it. Too horror-y for us.)  
We really respect that fact that you have made some really good films there is no way in hell we'll ever see, but that people consider very well done: Cabin Fever, Hostel, and Hostel II.
We really do love professional excellence, ER. But we love it most when it is combined with utter hotness.
You're f*ing hot, Eli. Our most favorite part of your hotness? We love that you can mix it up, as seen in the looks below:
 Casual Eli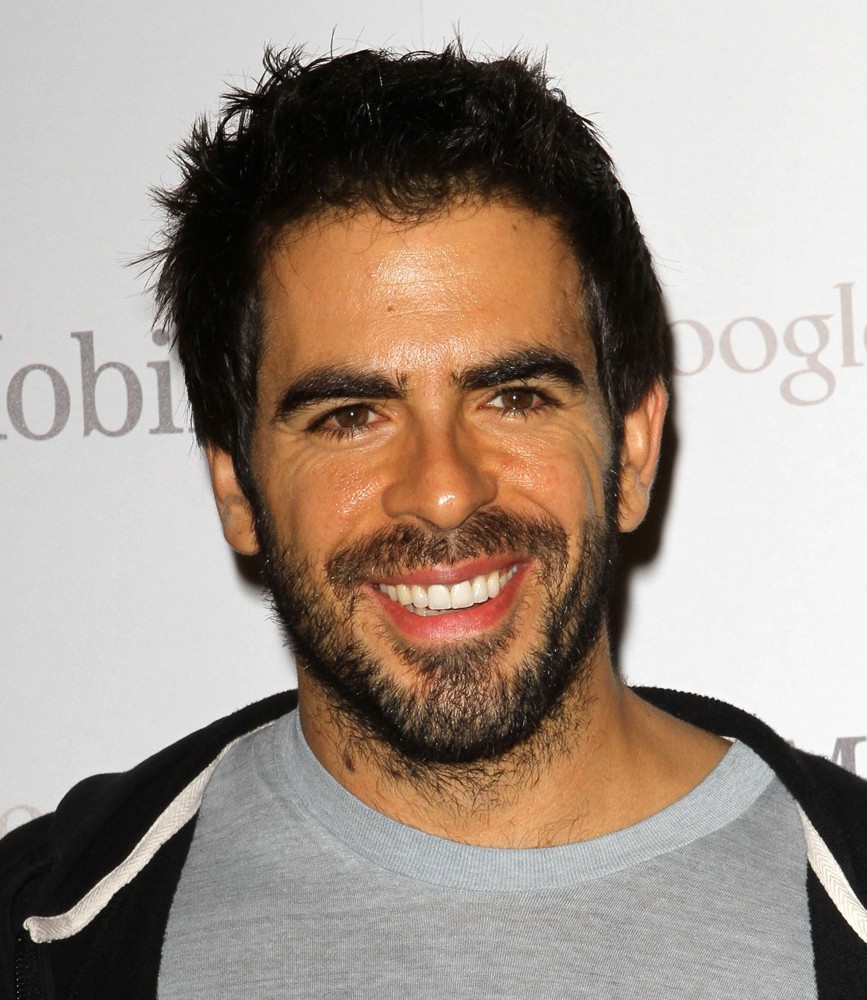 Sexually Pensive Eli 
Socially Conscious Clean-Shaven Eli
Knows the Cameras Will Be There So He Looks Hot But Is Trying to Pretend Like He's Not Looking Smoking Hot Eli
About To Gut A Nazi With Brad Pitt Eli
And our personal Favorite — Award Season Eli
Oh … yeah … we love us some you, Eli. Those picture just reconfirmed it.
We also think you are a bit of a beauty role model. Eli, you're 40. We were shocked when we found that out, because you don't look like many of the 40-year-olds we know. But you are further proof that 40 can — and should — be hot.
Stay with your passion, ER, which is scaring the s* out of people … but we won't be one of those folks. We will be waiting for your next Inglorious Basterds-like performance for people who like our gore in non-horror situations. (Yes, we're clapping for you right now, Quentin Tarantino.)
But, please do us a couple of favors, Eli … (1) keep going to the gym and (2) keep going to whomever makes your hair look so damn perfect. Okay?
Dude, You Are so Hot™.
DYASHguy.  
P.S.: Happy Halloween, Mr. Director-Scream-King-Guy
Dear Brad Pitt,
I am so gay for you … I guess I'm gay for everyone, but especially for you.
HOW DO YOU STILL LOOK SO HOT AFTER ALL THESE YEARS?!?!?!?!? 
Damn … :-o
DYASHguy.
P.S.: We at DYASH™ wish your mom was as cool as you are. She's not, though.